Description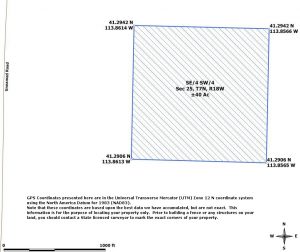 AN INCREDIBLE 40 ACRE LOT WITH POWER, DIRECT ROAD ACCESS, PLEASANT NEIGHBORS, AND ABSOLUTELY SPECTACULAR VIEWS ALL AROUND
IT'S WHERE THE ANTELOPE ROAM, AS YOU CAN SEE FROM THESE VERY RECENT PICTURES TAKEN 06/19/20
THE AREA THIS LOT SITS ON IS CHOCK FULL OF HISTORY AND A COMPELLING OVERALL ATMOSPHERE
DIRECTLY ADJACENT TO 640 ACRES OF PUBLIC STATE OF UTAH LAND AND NEAR TONS OF FEDERAL BLM LAND
MUCH OF THE LAND IN THIS AREA IS HELD ONTO BY THE FED, THE STATE, THE RAILROADS, OR LONGTIME PRIVATE LANDOWNERS SUCH AS OUR NEIGHBORS NEXT DOOR
BUT DON'T JUST TAKE OUR WORD FOR IT AND RELY ON THE BEAUTIFUL PICTURES. HAVE A LOOK AT THIS ***VIDEO*** THAT WE PUT TOGETHER!
4.8 MILES FROM LUCIN, UTAH
MINUTES FROM LITTLE PIGEON MOUNTAINS
1 MINUTE DRIVE OR 6 MINUTE WALK TO THE HISTORIC SUN TUNNELS
HUGE NATURAL LOT WITH SCENIC MOUNTAIN VIEWS IN EVERY DIRECTION
DIRECT ROAD ACCESS
NEAR LITTLE PIGEON MOUNTAINS, LION MOUNTAIN LUCIN, AND BALD EAGLE MOUNTAIN
40 ACRES IN NORTHERN UTAH NEAR THE NEVADA BORDER
NEAR LUCIN, UTAH WENDOVER, UTAH, AND MONTELLO, NEVADA
NEAR LITTLE PIGEON RD AND PILOT MOUNTAIN RD
4300′ ELEVATION
PARCEL NUMBER: 01-088-0009
LEGAL DESCRIPTION: SE/4 SW/4 SEC 25 T07N R18W SLM. CONT 40 AC
SPECTACULAR STUNNING MOUNTAIN VIEWS
RIGHT IN BETWEEN PILOT PEAK AND GRAHAM PEAK
A GREAT PLACE TO GETAWAY
BOX ELDER COUNTY
THIS PARCEL COMES WITH BEAUTIFUL VISTAS AND WELL-MAINTAINED ROADS AND IS VERY RARE TO FIND
THE PERFECT PLACE FOR CAMPING, RECREATION, BRINGING AN RV, OR ANYTHING YOUR MINDSETS ITSELF TO
GPS:
NW CORNER: 41°17'39.1″N 113°51'40.9″W
(41.294200, -113.861370)
NE CORNER: 41°17'39.1″N 113°51'23.5″W
(41.294200, -113.856520)
SE CORNER: 41°17'25.9″N 113°51'23.5″W
(41.290540, -113.856520)
SW CORNER: 41°17'25.9″N 113°51'40.9″W
(41.290540, -113.861370)
NO BACK TAXES
NO LIENS
NO HOA FEES
NO PAYMENTS
NO RESTRICTIONS
NO TIME LIMIT TO BUILD
STRAIGHT CASH SALE
WARRANTY DEED
TAXES ARE JUST $8.24 ***FOR THE WHOLE YEAR*** AND ARE CURRENT
$599 DOCUMENT FEE
PLEASE ASK ALL QUESTIONS BEFORE BUYING
PLEASE MAKE SURE YOU WANT TO PURCHASE THIS PROPERTY WHEN YOU PURCHASE
SELLER WILL SEND DEED OUT VIA PRIORITY MAIL AFTER PAYMENT CLEARS
DO NOT MAKE AN OFFER OR PURCHASE THIS PROPERTY UNLESS YOU HAVE DONE YOUR DUE DILIGENCE INCLUDING ASKING ANY QUESTIONS YOU MAY HAVE BEFORE YOU PURCHASE
THANKS FOR VIEWING!!!